Help Plant Trees While Relaxing at Home in This Cozy, Slice-of-Life Story Driven Game About Delivering Mail

Whitethorn Games
— publisher of indie hits like
Wytchwood
,
Princess Farmer
, and the recently released beekeeping sim
APICO
— alongside game developer
Gamious
are excited to announce that,
Lake
— their relaxing, critically acclaimed, interactive story game — is now available on Stadia via Stadio Pro. That's not all —  publisher
Perp Games
are pleased to announce a June 21, 2022 release date for the physical edition of the game in North America. As well, Perp Games are committed to the planet and reducing their own carbon footprint to neutral, and they have joined forces with
Eden Reforestation Project
to plant two trees for every copy of the game sold.
Meredith Weiss deserves a break, and so do you. Travel back to 1986 and take on the role of 40-something-year-old Meredith — an overworked programmer at a software company — who leaves the fast-paced drudgery of her big city life and returns to her quiet, rustic hometown. During her two-week vacation in the beautiful lakeside community of Providence Oaks, Oregon, she'll fill in for her dad — the local mail carrier — where she will not only deliver letters and parcels to new and old friendly faces but will also rekindle old friendships, make new ones, and maybe even find romance.At the end of her vacation, will Meredith return to the big city and continue life as a work-a-holic programmer, or will she fall back in love and settle down in the beautiful Providence Oaks? It's up to players to steer the story how they see fit in this slice-of-life interactive game.
Watch the official Lake trailer below:
Key Features of Lake include:
Go Back to the Past: Travel back to 1986 and escape to a beautiful, rustic town that is free of the stresses from smartphones, the Internet, and social media.
Trading Places: Ditch that city life and desk job and go to drive your father's mail truck in rural Oregon, or kick up your feet and let auto-pilot do the work.
Work that 9-to-5: Choose from a variety of after-work activities that include hanging with friends, helping out your neighbors, or staying in with a good book.
The Secret to my Success: Experience a branching story that doesn't shy away from slice-of-life themes. Like life, there are no right or wrong answers.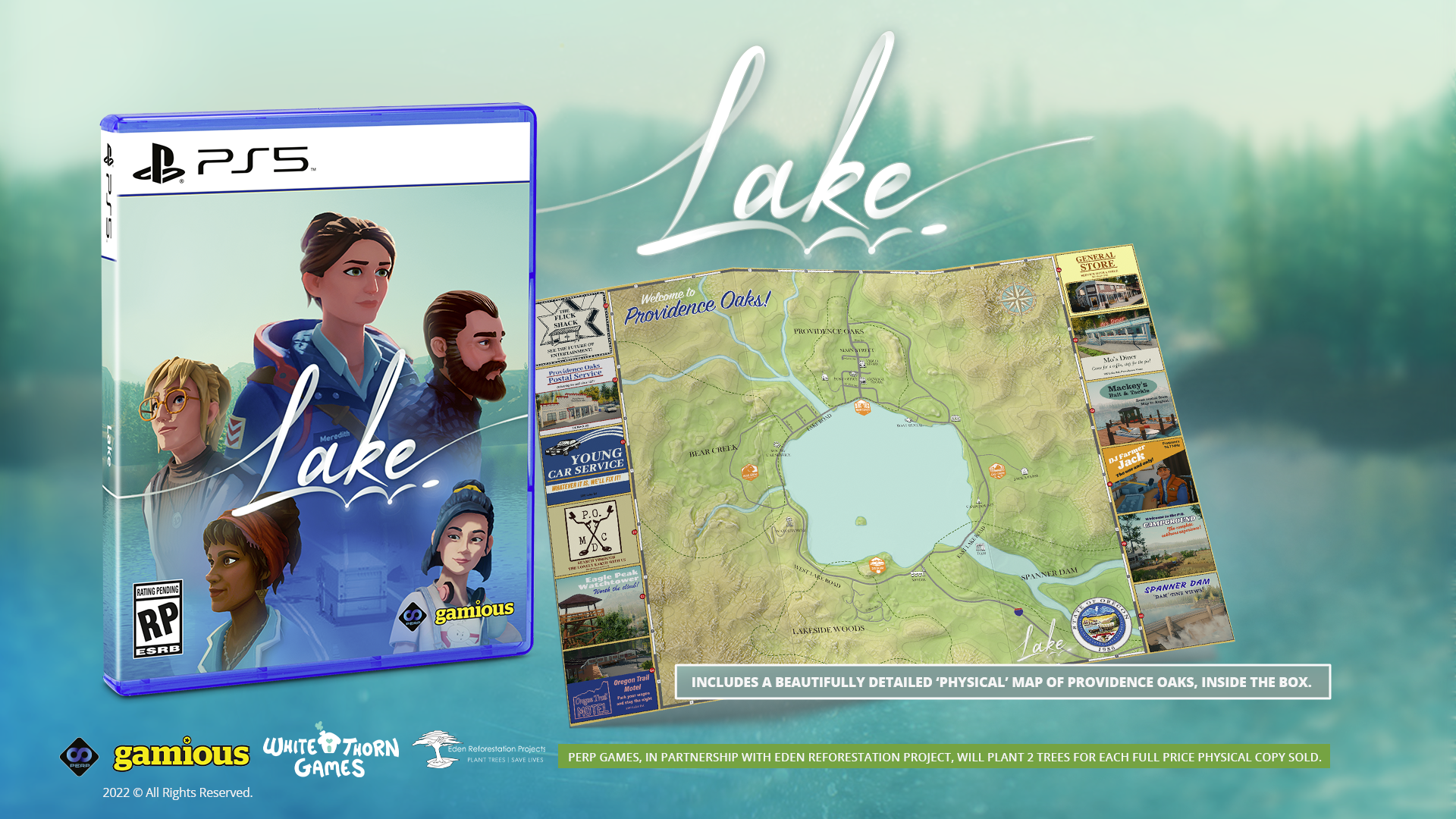 Lake is available now on PC via Google Stadia, Steam, or Epic Games Store, Playstation 4, and Xbox X|S, with the Playstation 5 physical edition releasing on June 21, 2022. The Playstation 5 Lake physical edition (MSRB $29.99 USD) contains the full game on disc as well as a physical map of Providence Oaks.
To learn more about Perp Games' commitment to planting trees with the Eden Reforestation Project, click this link: https://www.edenproject.com/.
To keep up with all things Lake, be sure to follow the game on Twitter, Facebook, and visit the official website.
A full press kit, including logos and screenshots, can be found here: https://uberstrategist.link/LAKE-Press-Kit.
About Whitethorn Games
We're an indie game publisher focusing on pleasant, cozy games that can be played in pieces, that require no special skills or knowledge, and that anyone can pick up and play. We're believers in accessibility, inclusion, and widening the audience that gets to play. We like to consider ourselves the defenders of easy games. While our games might challenge you, they'll respect your time, they'll make sure you can play, and most importantly, they'll never punish you. Learn more at https://whitethorngames.com/.
About Gamious
We are Gamious, a game developer based in Haarlem, The Netherlands. A nice bunch of people who love to create original and accessible games with pure gameplay – games we love to play ourselves. You may know us from our games Turmoil, Lines, and Lake. Check out our website: https://www.gamious.com/.
About Perp Games
Perp Games is a global video games publisher, with a proud track record of publishing award-winning titles, exciting indie games, and some of the world's most recognized franchises, from the most talented studios. Perp Games is an established and recognized global force in entertainment, bringing extraordinary and exciting games to market, across multiple formats and media.