Wrangle Hot-Headed Customers into Soothing Springs, Cure Their Ailments, and Fend Off Troublesome Yokai in Arcade-Style Gameplay
Everybody relax; Onsen Master is finally here! From Whitethorn Games — publisher of cozy indie hits such as APICO, Wytchwood, and Lake — and developer Waking Oni Games, the arcade-style hot spring customer management game is now available on Xbox Series X|S, Nintendo Switch, and PC via Steam.
"Onsen Master has been a part of my life for the last seven years," said Derrick Fields, Founder of Waking Oni Games. "Me and the whole team at Waking Oni Games are so excited to finally share the completed vision with the world!"
"It's been a real treat to work with the team at Waking Oni Games," said Dr. Matthew White, CEO of Whitethorn Games. "Onsen Master is a wonderful, unique game that we're proud to be a part of. We're excited for people to experience it in full!"
Onsen Master features arcade-style single and two-player co-op, where players must manage the customers of their hot springs, and prepare and put together the correct ingredients to cure their ailments. Running around the hot springs, wrangling wandering customers, and putting the right concoctions into the right baths can be hectic enough already, but troublesome yokai look to impede players' excellent service as well.
A dark cloud hangs over the island of Izajima, its effects weighing heavily on the inhabitants. Mischievous spirits called yokai are running amok within the island's hot springs. And the great Onsen Master, keeper of the hot springs and healer of ailments, has mysteriously vanished. Players will take on the role of his apprentice, Mu, in order to restore balance and uncover what happened to the Onsen Master!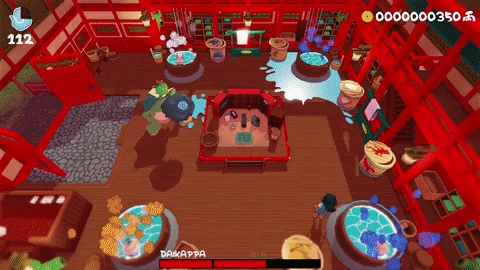 Watch the latest trailer below:
Key features of Onsen Master include:
Spring Fling: Experience a short and sweet story for up to two players, and unveil the island of Izajima in a visual novel style narrative with a cute anime aesthetic.
The Customer is Always Right: Skip the story and dive right in with Arcade Mode! Choose one of the 6 hot spring levels to put your customer service skills to the test.
The Heat is On: Take on others in a competitive couch multiplayer mode where players must each work to manage their customers within the same hot spring.
Spa Music: An original soundtrack full of tunes akin to a Feudal fairy tale, composed by Dorrell Ettienne.
Onsen Master is available now on Xbox Series X|S, Nintendo Switch, and PC via Steam.
To keep up with all things Onsen Master, be sure to follow Waking Oni Games on Twitter, and visit their official website. Follow Whitethorn Games on Facebook, Twitter, Instagram, join the Discord community, and visit the official website.
A full press kit, including logos and screenshots, can be found here: https://uberstrategist.link/Onsen-Master-Press-Kit.
About Whitethorn Games
We're an indie game publisher focusing on pleasant, cozy games that can be played in pieces, that require no special skills or knowledge, and that anyone can pick up and play. We're believers in accessibility, inclusion, and widening the audience that gets to play. We like to consider ourselves the defenders of easy games. While our games might challenge you, they'll respect your time, they'll make sure you can play, and most importantly, they'll never punish you. Learn more at https://whitethorngames.com/.
About Waking Oni Games
Waking Oni Games is a BIPOC led indie studio, creating experiences that are meant to uplift underrepresented voices while exploring cultural intersections, media, and nostalgia. Visit https://wakingonigames.com/.
PRESS CONTACT
Lisa Mior and James Robinson
UberStrategist Inc.
moc.t1675267269siget1675267269artsr1675267269ebu@r1675267269p1675267269
1-646-844-8388