Discover the Depths of the Sea and Recreate Research Dives in this unique Ocean Exploration Simulator.
Developer sqr3lab invites you to dive to the bottom of the ocean in its deep-sea exploration simulation game, subROV: Underwater Discoveries, available now in Steam Early Access. Players can now sit behind the control panel of a submarine Remotely-Operated Vehicle (ROV) from the comfort of their homes, and simulate real dives previously completed by oceanographic institutions around the world.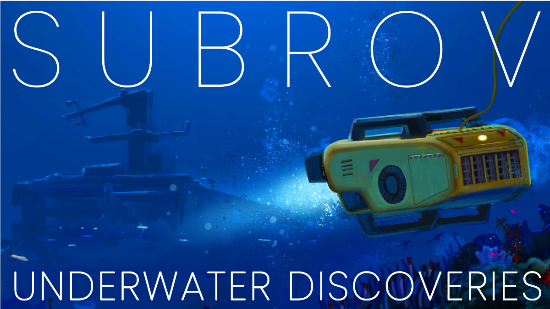 "It's wonderful to finally share this project with players," said José Luis González Castro, Founder of sqr3lab. "While this Early Access launch is just the beginning for subROV, I hope players are able to come away from it with the same intrigue and fascination for ocean exploration that I have had for so many years."
In subROV: Underwater Discoveries, players chart unknown regions, sample hydrothermal vents, find shipwrecks, study aquatic species ranging from fish to coral, and more! Experienced through the mysterious depths of the ocean, the game blends realism with intuitive controls to create a truly one-of-a-kind approachable sub simulation. With support from the Bermuda Institute of Ocean Sciences and the Schmidt Ocean Institute, and with partial-funding from a National Science Foundation BIO-OCE grant, players will embark on dives based on real oceanographic expeditions, and experience underwater exploration in a way few people have before.
Watch subROV: Underwater Discoveries official trailer below:
Key Features of subROV: Underwater Discoveries Include:
Sim-ply Submarining: Take control of an oceanographic vessel, complete with a full-ocean-depth rated ROV, and an array of advanced tools including sonar, AI-assisted scanner, articulated arm, temperature sensors, landers, sediment cores, and other scientific equipment.
Choose Your Own Ocean Adventure: Every dive tells a remarkable story. Each dive features loose objectives, but you're always free to explore to your heart's content
Ocean Master(y): The ocean is full of mysteries waiting to be discovered! Rendezvous with ocean buoys and download scientific data and information on new points of interest. Build up your findings gallery, gain experience from completing objectives, and climb your way up the ranks from trainee to Dive Master!
A View to a Krill: From black corals to glass sponges, Chimaeras to sperm whales, there are dozens of aquatic life forms to encounter and study! Each one is accurately modeled — with many being brought to a videogame for the first time ever — to make the diving experience as true to life as possible.
To further prepare for your dive, be sure to follow subROV on Twitter, YouTube, join the official Discord, and visit the official website.
A full press kit, including logos and screenshots, can be found here: https://uberstrategist.link/subROV-PressKit.
About sqr3lab
sqr3lab is the work of sole developer José Luis González Castro, a composer and sound designer with over 20 years of experience in the gaming industry, including recently at Frontier Developments. González's credits include Elite Dangerous, Disneyland Adventures, Kinectimals, and Bionic Commando. subROV: Underwater Discoveries started as a project for José to hone his skills with the audio middleware Wwise, and over time it evolved into a full-fledged title.
About Schmidt Ocean Institute
Wendy and Eric Schmidt founded Schmidt Ocean Institute in 2009 to advance oceanographic research by offering scientists access to the world's first year-round philanthropic research vessel in exchange for making their findings publicly available. After operating the ship Falkor for a decade, hosting more than 1,000 scientists, discovering scores of new marine species and underwater formations and mapping more than half a million square miles of the seafloor, Wendy and Eric acquired a larger research vessel, Falkor (too), in late 2021. The new ship is currently being refitted and is expected to be ready for science expeditions in 2023.
About Bermuda Institute of Ocean Sciences
The Bermuda Institute of Ocean Sciences (BIOS) is an independent U.S. non-profit scientific research and educational organization based in Bermuda and a Bermuda Registered Charity #116. For over 100 years BIOS-based researchers and visiting scientists have worked to explore the ocean and address important local and global environmental issues. Ocean and atmospheric science research programs at BIOS provide a wealth of information that is used by government representatives, environmental resource managers and community leaders to inform their decision-making processes. R/V Atlantic Explorer is a U.S. flagged ocean class vessel in the U.S. Academic Research Fleet, operated by BIOS as a UNOLS designated operator, that provides scientists with a platform for conducting short-and long-term studies
of the open ocean, providing data to inform our understanding of global climate change, nutrient cycling and ocean-atmospheric dynamics. For more information visit www.bios.edu.
About National Science Foundation
The U.S. National Science Foundation (NSF) is an independent federal agency that supports fundamental research and education across all fields of science and engineering. In Fiscal Year 2022, its budget is $8.8 billion. NSF funds research in all 50 states through grants to nearly 2,000 colleges, universities and other institutions. Each year, NSF receives more than 50,000 competitive proposals for funding and makes about 12,000 new funding awards.
PRESS CONTACT
Alex Handziuk and James Robinson
UberStrategist Inc.
moc.t1675264559siget1675264559artsr1675264559ebu@r1675264559p1675264559
1-646-844-8388